Here we are again.... Time for I Don't Wednesday at
Jenna's blog
! This will be quick since it is
naptime
and I have A LOT to do!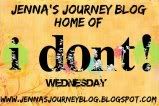 I don't have my baby girl's Christmas stocking finished. I've made all of ours but I am having a hard time finishing hers.... it will be done by Christmas though!
I don't have on real clothes today... just lounge pants and a t-shirt - it's a nasty, rainy, HOT day here and we are staying inside!
I don't blog as much as I would like - things have been really crazy around here lately.
I don't like cooked fruits. I love fruit, just not hot!
I don't like lemon in my water.... I just want a lot of ice in there. :)
I don't know how I'm going to arrange the bedrooms in our house to make room for the new baby.... I need to get on it!
That's what is on my mind today. I'm hoping to get out another post today... we'll see :)
Happy Wednesday all!